THE WORLD'S MOST INNOVATIVE PC STICK WITH BATTERY, IOT AND MANY OTHER EXTRAORDINARY CAPABILITIES – MagicStick plugs into your TV to give it full PC computer capabilities. Run Windows 10 or Android OS or Linux with the 14 Nanometer Intel Cherry Trail Processor. Now your TV is a computer that can do almost anything a full featured PC can do. Use all of your favorite apps. Easily transport projects from work to home and back to work again.
BIG SCREEN WINDOWS 10 PC IN EVERY ROOM : You can connect one MagicStick to every TV in your house. Now, all of your TV's will also function as fully functional computers displayed on the BIG screen.
PLAY PC GAMES ON THE BIG SCREEN. You get the same fast,powerful processing of a desktop or laptop PC. Only, now you can see characters and background scenes on your hi def TV. The larger screen makes games more realistic, with more intense action.
4K VIDEO STREAMING turns your TV into a virtual movie theater. You'll enjoy your TV 10 times as much as before. Great for online shopping, MagicStick lets you browse all of your favorite retail sites. Now see BIG detailed product photos that help you become a more informed shopper.
ULTRA PORTABLE. MagicStick looks like a thumb drive.It's small enough to carry in your backpack, pocket, briefcase, purse, or keep in a desk drawer or car glove compartment.
MagicStick PC Nano Stick Turns Your TV Into Powerful Full Featured Computer. Most Advanced PC Stick Made. Runs Windows 10 & Android OS & Ubuntu 19.04 Preloaded, All Your Favorite Apps, HD Games on Big Screen
SMALL STICK TRANSFORMS TV INTO HIGH POWERED COMPUTER. Why didn't somebody think of this before? Simply plug MagicStick into your TV and it instantly becomes an advanced PC computer. It will do everything an expensive PC will – now on the big screen of your TV! Or plug MagicStick into your Type C USB drive to easily move data. Battery inside means you can transport the stick without shutting it down. No affected by power fluctuations.
WINDOWS 10 and ANDROID OS   operating systems are preloaded onto MagicStick and Ubuntu also supported. Run those popular operating systems on your TV. Run all your favorite apps. Use your computer to check email, write papers, and much more. Has embedded IOT controller that works from your cell phone to turn on and off remotely. Connects to 2 displays at once. For example, watch TV at the same time you work on a computer monitor
COPY BIG FILES INSTANTLY. Move big 5GB files in just 4 seconds! Enjoy 4K video streaming without hiccups or glitches. It's smooth, problem free, and looks amazing on your big screen.
PLAY HD GAMES ON BIG SCREEN. If you love games, you're going to go wild over how MagicStick turns your TV into the ultimate gaming computer. Get vastly better visuals and sound on TV for a much more realistic game experience.
Many people are stocking up with one or two of these sticks to enjoy the amazing features and capabilities on every TV in their home. HURRY AND BUY NOW while we have this very popular cutting-edge technology in stock. This makes a perfect birthday present, holiday gift, and anniversary gift. Great for friends, family, and co-workers – anyone who wants to instantly transform their TV into a powerful PC computer.
Many customers love this stick so much they return to buy 2 or more to put in every TV in their home. MagicStick makes an outstanding gift for friends, family, and co-workers.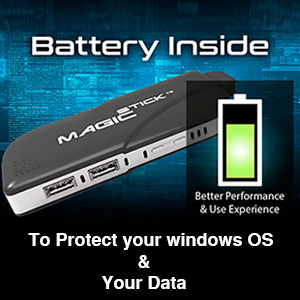 BATTERY INSIDE
We have added a battery inside MagicStick for better performance and user experience. With the added battery feature, you can move your MagicStick from one place to another without shutting down the device. It also prevents Windows and system files from corruption by keeping the device ON even during power failures and fluctuations.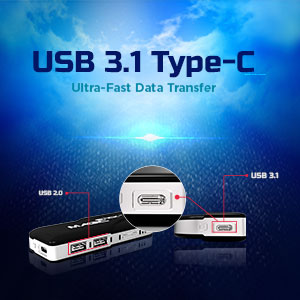 ULTRA FAST USB TYPE C DOCKING
MagicStick One comes with the latest Type-C ports and connectors with over 10 Gbps data transfer capability. Transfer your favorite Blu-ray movies in less than 40 seconds. The latest USB 3.1 can be connected to a Type-C docking station and run as a PC for BYOD use-case just like a plug n play computer.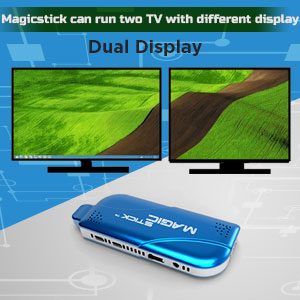 DUAL DISPLAY
MagicStick One can connect to dual displays i.e. TV or Monitor. You can use it as an extended display feature when you need extra screen space to play games and work. Windows 10 can support mirror display as well as extended display. This feature can be utilized for many situations. As an example, you can have one monitor facing you and another monitor facing your client on the opposite side of your desk.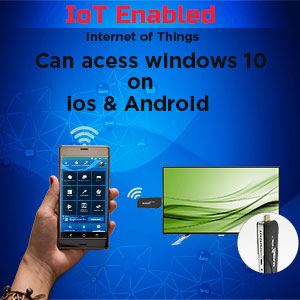 IOT and Mobile App
MagicStick is the first small-form factor PC that uses IoT technology. MagicStick can be controlled using mobile phones. You no longer have to get out of your bed to turn on your computer. With IoT, you can control MagicStick One using your smart phone. Switch your MagicStick ON and OFF from anywhere.
Moreover, IOT controller can also work like a router, which will let you connect MagicStick to your mobile phone and tablet and use Windows 10 apps on it while on the go. With this feature, you can easily access your work software and files on your phone or tablet.Mobile app be launched soon.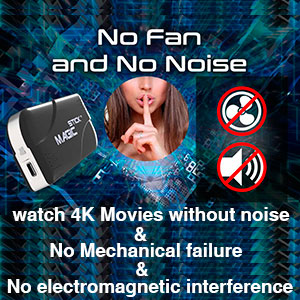 No Fan – No Noise
Thanks to our patented cooling technology, MagicStick One doesn't need a fan for cooling. This means you can work in complete silence with no disturbing noise. This also means no mechanical parts are involved, making the device robust and very low-maintenance. MagicStick is designed with perfection to suit all of your needs.
Fans emit electromagnetic radiation which interfere with the circuitry of a device and degrade the performance. In the case of a fan malfunction, a device will stop working. MagicStick's unique technology allows it to be quieter and more reliable than other PC sticks on the market today.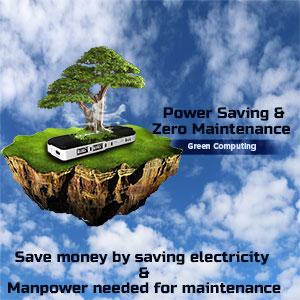 Power Saving&Zero Maintenance
MagicStick One runs on 5 Watts of power saving enough on your electricity bill to recover your investment over time.
MagicStick doesn't contain any mechanical equipment – all parts are electronic, and hence maintenance free. It is essentially noiseless.
Normal laptops and desktops are large in size and consume a signiciant amount of electricity in comparison. Magicstick consumes 10 times less electricity than a laptop and 40 times less electricity than a desktop.
MAGICSTICK IS EXTREMELY COMPACT WITH A LAYER BASED ELEGANT DESIGN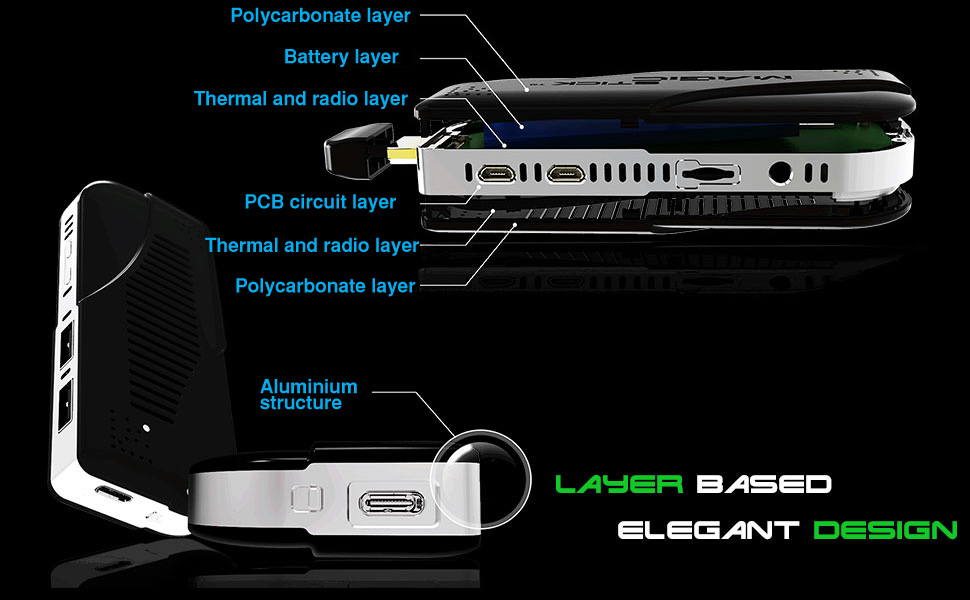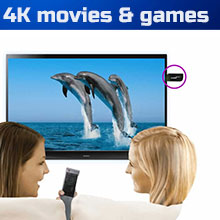 4K UltraHD HomeTheater
Now experience watching and streaming 4K Ultra HD videos on your TV screen!Watch your favorite Movies and TV shows from Netflix, Amazon and more or just check out the latest YouTube videos.Catch your favorite team in action be it soccer, basketball or F1 racing all with the best video quality.Stream your own media, videos, images, documents etc. from your phone to a large TV screen.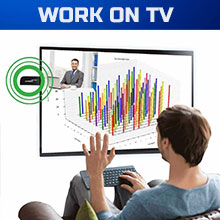 Work from Home
MagicStick converts your TV into a powerful workstation where you can complete all your office-related tasks with ease.You no longer need to own a laptop or maintain a desktop at home.MagicStick is noiseless and runs on only 5 Watts of power making it ideal for home use.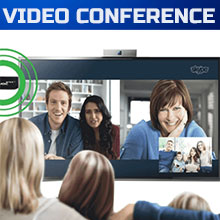 Video call together
Experience the love and affection of your family and friends on a large screen with high clarity. Video conference with your family through any of your favorite video calling apps.Run Skype, Messenger, Hangouts,Line etc. with pre-loaded Windows 10 or Android OS.With MagicStick you get more choices and control because it has the ability to run apps from Windows 10, Android or Linux.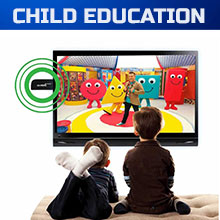 Children's Learning
MagicStick can prove very useful in the growth and development of your children. No more meddling on small-screen mobile phones and office laptops while also protecting their sensitive eyes.MagicStick can easily substitute as an innovative tool of learning for your kids, with no limitations in size of screen hampering their creativity.Help your young ones showcase their creativity and share the same with the world instantly.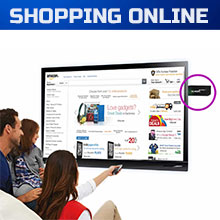 Online Shopping on TV
How often have you wondered if you could have the same Online Shopping experience from Amazon, Rakuten or Alibaba, but on a big screen like the TV in your living room?With MagicStick you can easily browse your favorite Online Shopping sites and see your favorite products on a large screen with more clear and vibrant images. A large screen makes it easy to shop along with your family, while making buying decisions together and enjoying the experience.
Web-Browsing and IPTV
Simply connect MagicStick to your TV or other display unit and start browsing the web.Share all types of media with your family and friends through your favorite apps such as Facebook, WhatsApp, Twitter, Instagram, Snapchat, etc. Sharing is fun with MagicStick
MagicStick's Dual Antenna and Beam-Forming Technology helps you always remain connected to the world even if the Wi-fi signal from your router is weak.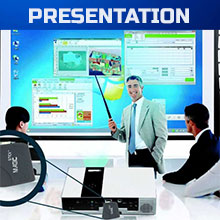 Business Applications
MagicStick is a complete package that bundles productivity, quality, and value in a small device, bringing more possibilities to your business than ever before.MagicStick enables you to project PowerPoint presentations, videos, dashboards, etc. on projectors anytime, anywhere.
MagicStick can connect to two displays i.e. TV or monitor. You can also use the extended display feature when you need additional reports and information readily available during business meetings.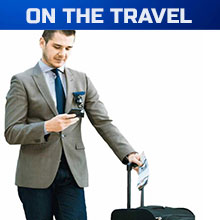 On-the-go productivity
MagicStick is ultra portable and perfect for travel. Limit unncessesary luggage, while having everything you need in a device the size of a memory stick.
MagicStick comes with an IoT Wi-Fi router for those who want to continue working through their smart phone or tablet. Access your work software and files on the go.Travel light. WIth MagicStick there is also no longer a need to carry a laptop to and from your office.
MagicStick is a device with multiple use-cases. It is ideal for using in home, at work or even on the go. It's a complete solution that delivers performance, speed, and value of a PC bundled together into a sophisticated design in small-form factor… Add new possibilities to your personal and professional needs. Prepare yourself to BE AMAZED!
Technical Specs in Details
1. CPU : Intel Cherry Trail Processor(Z8300/Z8350)
2. OS : Windows 10 Pro License Activated
3. Office : Microsoft office 2019 pro Preloaded
4. RAM : 2 GB DDR3L
5. Plug N Play Computer : USB 3.1 Type-c port for Display, power and USB data at single port which make it idle USB Computer plug n play.
6. SSD : 32 GB and expandable up to 10TB by USB HDD
7. Storage Expansion : Micro SD slot expandable up to 512 GB for additional storage
8. WIFI : Integrated WiFi 2.4 Ghz (150 mbps) with Bluetooth 4.0
9. Extensions : Latest Type-C Connectors, One USB 3.1, 2X USB 2.0, 1 Micro USB 2.0
10. Display : HDMI 1.4 and DP at USB 3.1 Type C, dual display
11. IoT enabled : 2.4 Ghz low energy wifi [ You can control Magicstick by your mobile phone] 12. Power supply :Microusb connector Power supply 5V 3.0 A and USB 3.1 port
13. Battery : 420 mah 5C battery [for power backup upto 20 mins & safeguard from power fluctuation] 14. Size : Length = 116 mm x width = 47mm x Thickness = 13 mm, weight : 98 grams
15. Best use cases :
a. Office usage , internet browsing, 4K video playing etc
b. Smart education for children
c. Professional computing for professionals like lawyer, accountant, doctors, teachers etc
d. Big screen computer for Home converting TV in to Big screen computer